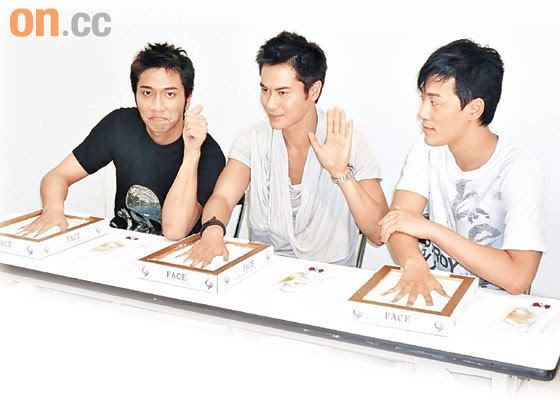 Kevin Cheng Ka Wing performed alongside Ron Ng Cheuk Hei and Raymond Lam Fung at the Tokyo Dome "Face in Japan" concert. The concert also featured Korean boy band, Dong Bang Shin Ki (aka DBSG), Se7en, etc. While in Japan, Kevin was also chased for a kiss by a "sexily-clad woman," resulting in much humor!
Kevin, Ron, and Raymond were special guests and performed in the opening sequence at the concert. They did a catwalk with a dozen models, showcasing a Korean designer's clothes. Kevin, Ron, and Raymond sang separately and then performed a group rendition of Leslie Cheung's "Monica," which was well-known by Japanese audiences.Although the trio did not have time to practice before the show, fortunately, their performance was successful. The Japanese audience cheered loudly; the reaction was very positive!
Kevin's birthday was August 15th, which was the same day of the concert performance. TVB executive, Virginia Lok Yi Ling prepared a special surprise for Kevin the night before. At 12 midnight, Virginia asked Taiwanese artist, Jin Gang, to dress in drag and kiss Kevin. Jin raised his dress to seduce the scared Kevin.
Kevin laughed, "I was surprised to receive such an invaluable gift from TVB! Jin Gang was pretty in drag, but he had too much body hair! In the past, my birthdays were often spent working. Since I performed at the Toyko Dome for this year's birthday, it was especially memorable.""The Japanese audience was very warm! This has increased my confidence in furthering my career in the Japanese market!"As for Kevin's birthday wish, he hopes to improve his health. What gifts did he receive from rumored girlfriend, Niki Chow Lai Kei? "I did not receive any! But many friends text messaged me, including Niki as well!"
Source: the Sun
Credit:Jayne
----------------------------------------------------------------------------
Sam: Congratss to Ron, Kevin and Ray, for being so sucessful at their performance! i wish i was there!
Anywayy Happy Belated birthday Kevin! No matter how old you are we all know you will remain in your 20's ! =D