Wednesday, 15 August 2007
Source: Mingpao
Translated by Sam
Raymond Lam, Ron Ng, and Kevin Cheng last night arrived at Tokyo dome to prepare for the concert "Face in Japan". This time, this is the first step, to their success for their performance.
Yesterday in the Radio interview With Miss Yen, they said, before I seem the salesman material junction will give the Japanese media and the manufacture person, a good impression in order to will arrange to make work in the future in Japanese drama. Since Ron can dance and Sing, the company has developed interest, many companies look upon with favour.
Yesterday at 8, the 3 stars, were getting ready to go to Tokyo, with 30 fans to send them off. As Ron and Kevin were very busy filming for the 4 great constables, and Kevin filming, all 3 had to work till very late, and then had to go home and pack. (Ron said he had to work till 2 am in the morning).

Ron said he was excited and nervous, because after the performance they had to do a catwalk. Ron says "The catwork isn't really making me worried, im worried about my dancing". After Ron finishes filming, he said he will stay in Japan for 3 months to learn his dancing skills.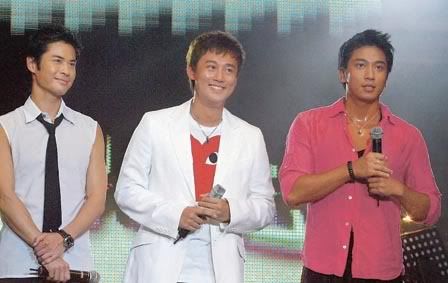 Article from Jaynestars: Different source
Ron Ng Cheuk Hei, Kevin Cheng Ka Wing, and Raymond Lam Fung will be taking their exciting first step in the Japanese market! The trio will be performing at Tokyo Dome in the "Face in Japan" concert, along Korean superstars such as Dong Bang Shin Ki (aka DBSG), Se7en, etc.
On Monday morning at 8 AM, Ron, Kevin, Raymond, and TVB executive, Virginia Lok Yi Ling flew to Tokyo. Over 30 fans were at the airport to say goodbye to their idols. Raymond's fans even bought plane tickets to Tokyo so they can support him in the concert! Ron, Raymond, and Kevin were fortunate to perform in Japan. Virginia said, "Earlier, TVB released Ron, Kevin, and Raymond's resumes and data to Japanese TV producers and press." Virginia indicated that Japanese producers were highly interested in Ron Ng and advertisers were interested in Gigi Lai and Vivien Yeo Sau Wai.
Ron, Raymond, and Kevin will be meeting with the Japanese press and producers to discuss their upcoming projects further. If the men had a chance to film a Japanese TV drama, who would be their ideal co-star? Kevin said, "I admire Takuya Kimura. If I had a chance to work with him, I will be very happy!"
Originally, Ron Ng planned to improve his dancing skills by studying in New York City. However, he will now study in Japan for 3 months instead. "I am thrilled and anxious about performing at the Tokyo Dome! I will be singing, dancing, and doing a catwalk!"
Earlier, Raymond performed at the Hong Kong Coliseum in Susanna Kwan Kuk Ying's concert. He did not think he will have an opportunity to perform at the Tokyo Dome so quickly afterwards.
Raymond indicated that Ron, Kevin, and himself were busy filming series last night into the dawn hours. Due to limited rehearsal time for the concert, they will have to perform spontaneously.
Originally, Bosco Wong Chung Chak was supposed to perform at the Tokyo Dome concert as well. However due to filming requirements, he will miss this opportunity to perform in Japan.
Source: The sun

Wednesday, August 15, 2007