Tuesday, 2 October 2007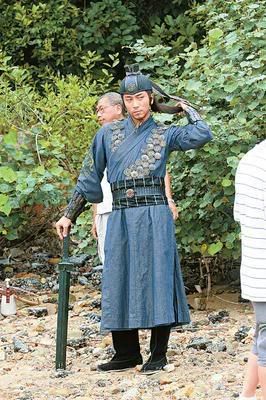 *Please note this news is from 3 days ago, there is more recent news, of Ron's children function, if you scroll down after this post*
Date: 29/09/07
Source: Singtao
Translated by:
Sammy@ron-site.blogspot.com

Ron Ng, may have only entered the industry for a short period of time, but because he is so busy, filming one series then another, quite recently he has been filming The four great constables, and earlier had to film an outdoor scene, and Ron's fashion designer had to spend 2 hours, just to get changed and to put on all his makeup and everything, which caused the director to question him.

Ron Ng, recently has been filming with Raymond Lam, Samuel Chan, Kenneth Ma and Kate Tsui, filming The Four great constables, with the female lead Kate Tsui, putting filming first, but, apparently, they have been saying that the four of them have had a fight with news papers saying Ron and Raymond have stayed away from Kenneth Ma, but Ron and Raymond denied this.

Earlier, Ron was filming with Dominic Lam and Samuel Chan, and had to walk to "西 貢" to film, and when Ron had to film alone he acted as if nothing was wrong, and they filmed it quite rapidly, and it was only because it had been related to the weather, which limited the time, and afterwards Ron, was with a group of workers who had to change to a different location to continue filming, and during this time frame, Dominic and Samuel had to film their scenes, so they both came to film on time.

With Ron's situation, about him changing his clothes, they had to film, Samuel Chan's scene first (something to do with Tibet) and Ron's Match play Dominic, was practicing her moves with the Martial Arts instructor, and continuously kept practicing.

After two hours, Samuel Chan's part had already finished, and was so bored that he was playing with the bush leaves, and with Dominic's Martial arts, she had already finished practicing, but, Ron hadn't appeared yet, with the Director questioning, but instead he was in the car fixing his wig. Afterwards the director gave Ron a scolding saying "Dai Siu (pointing at Ron) have you finished yet? Do you still need to continue?" Ron was in the Car, with one of the fashion designers, helping him straighten his wig , which took her so long, that the Director, blamed it all on Ron, saying, changing costumes and wigs, its for him to control, leaving him innocently being loudly scolded by the Director.
In the end, Ron hurriedly wanted to escape, but the other workers found out he had been away for two hours, saying that the wig had caused all that trouble, and Ron hurriedly ran to the car, and found another wig, because the director, was very angry, so he only spent 10 minutes doing that, and returned back to start filming, but with everybody working together, they finished before sunset, so, all of them, after filming quickly left, and maybe if this situation hadn't happened, they wouldn't have worked so fast!
-------------------------------------------------
I reckon this is rumours, since only singtao posted this kind of newss. anyway wish Ron luck when he goes to China and film =D
Tuesday, October 02, 2007