1. Lost?

This is just a blog about Ron Ng, a part of www.ronforever.com
2. Ronforever
Ronforever Forum
Includes: Pictures, Downloads, News, Schedules, Polls and much more =D
3. Tagboard
4. Links
TVB Girl
Kelly Chen Cafe
TVB TODAY
TVB wonderful series
K for TVB
Jaynestars
Sizziling Hot- Joanne
Qing's Blog
Loelle's TVB Fan's Blog
嘉穎天下










6. Counter
online
7. Music
8. Credits

Friday, 12 October 2007
Source: RonOnline Mag Scans
Translated by: Sammy
*Only Ron's bits translated. Theres Kevin, Bosco, Raymond and Joe in it as well, but unrelated
Sour: Probably, since I don't really like to laugh, so when I film, it just isn't me. There's this weird feeling, but its actually quite relaxing lah!
Sweet: My family, treats me very well, and respects my thoughts. When I wanted to move from dancing class to acting class, my mum respected my decision, but everytime she always made me think clearly before making the decision so I don't regret. My sister always helps me with my problems, but now I am so busy, I don't have time to go see my family too often. But everytime we have a "Family day", we always get together, and talk about how we feel.
Bitter: Not enough time to sleep "Laughs". I still remember filming "Find the light" and that was my first main series, so I was very nervous. I had to film till very late, and not having enough time to sleep. There was one time I was told had to film a fighting scene (war) and I was upset (not too sure what it says) so I ran out, and called home. I was crying and kept saying to myself "I don't want to film anymore".
Mild: Haha, My most favourite place is to stay at home, because lots of boys don't like staying at home but I do like "hoi bun" (don't know what that means). I do enjoy, sometimes feeding the fish, drinking some tea, and a very quiet surrounding.
(Scroll down for other half of Magazine)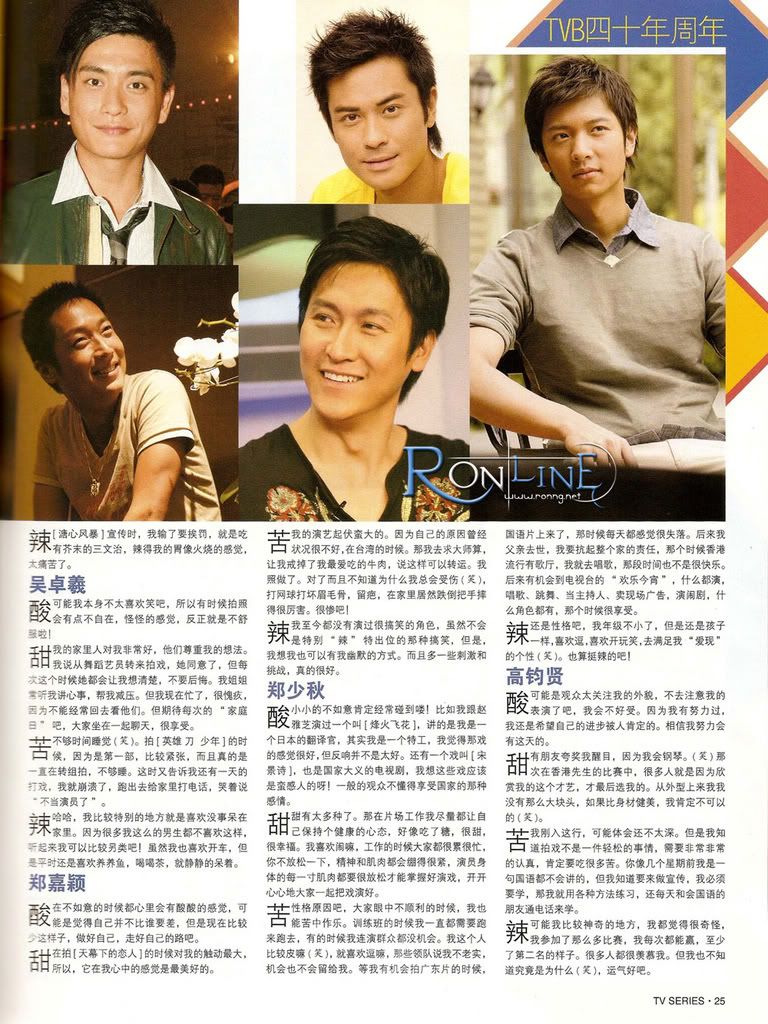 Friday, October 12, 2007