1. Lost?

This is just a blog about Ron Ng, a part of www.ronforever.com
2. Ronforever
Ronforever Forum
Includes: Pictures, Downloads, News, Schedules, Polls and much more =D
3. Tagboard
4. Links
TVB Girl
Kelly Chen Cafe
TVB TODAY
TVB wonderful series
K for TVB
Jaynestars
Sizziling Hot- Joanne
Qing's Blog
Loelle's TVB Fan's Blog
嘉穎天下










6. Counter
online
7. Music
8. Credits

Monday, 12 November 2007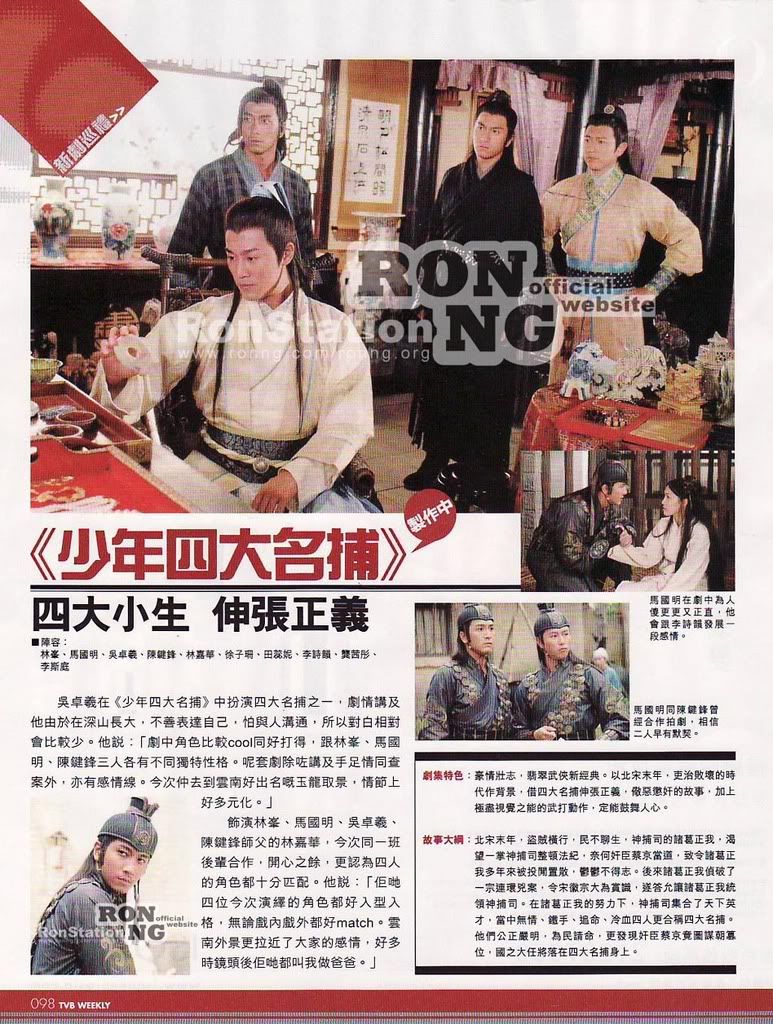 Source: Ronng.com
Translated by: Sammy @
http://s4.invisionfree.com/ronng
+
http://ron-site.blogspot.com
Ron Ng has been filming the Four Great Constables recently and in the series he has been raised by a wolf . He doesn't like to look after himself and cannot communicate very well and hasn't mixed with people before. Ron said "This character is cool especially acting with Raymond, Kenneth and Samuel whose personalities are totally different from my one. It is not only a series about fighting and investigating but also has a relationship story to it. This time round when we went to Yunan we were very fortunate to be able to film at a very famous location.
Raymond Lam, Kenneth Ma, Ron Ng and Sammuel Chan's "sifu" Director had to work with them and stated it was a good experience and he thought that the 4 main actors had taleny. He said "The four of them have different characteristics and no matter what they do, they all match each other. Filming in Yunan has taken our friendship further. After completing the series they even called me as their Father."
Monday, November 12, 2007