1. Lost?

This is just a blog about Ron Ng, a part of www.ronforever.com
2. Ronforever
Ronforever Forum
Includes: Pictures, Downloads, News, Schedules, Polls and much more =D
3. Tagboard
4. Links
TVB Girl
Kelly Chen Cafe
TVB TODAY
TVB wonderful series
K for TVB
Jaynestars
Sizziling Hot- Joanne
Qing's Blog
Loelle's TVB Fan's Blog
嘉穎天下










6. Counter
online
7. Music
8. Credits

Thursday, 22 November 2007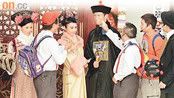 TVB's 2007 Anniversary Gala celebrations were held on November 19th. With many of its artists in attendance, the show averaged 37 points in ratings. This was the highest ratings the TVB Anniversary achieved over the last 5 years!
The show's ratings peaked at 41 points during the gag segment when Louis Yuen Siu Cheung, Wong Cho Lam, and Lee Si Gin dressed as the Grasshoppers while singing and dancing.
During Michael Tse and Sonija Kwok's dance segment, the MC's magic tricks performance, and Ron Ng and Kate Tsui's acrobatic performance, the ratings surged at 38 points.
At the same time, TVB's other prime-time programs climbed an average of 5 points, averaging 32 points.
Although TVB's 2007 Anniversary Gala celebrations achieved ideal ratings, viewers complained that it was distasteful. In the "War and Beauty" gag segment, Eric Tsang Chi Wai and Nat Chan Bak Cheung smeared ice cream on the artists' faces. Since this act was considered a poor influence on children, viewers filed complaints.
One viewer also complained that Nat Chan's backpack featured an image of a skeleton, which was inappropriate for TVB's festivities.

Source: the Sun
Credit:Jayne
Thursday, November 22, 2007