1. Lost?

This is just a blog about Ron Ng, a part of www.ronforever.com
2. Ronforever
Ronforever Forum
Includes: Pictures, Downloads, News, Schedules, Polls and much more =D
3. Tagboard
4. Links
TVB Girl
Kelly Chen Cafe
TVB TODAY
TVB wonderful series
K for TVB
Jaynestars
Sizziling Hot- Joanne
Qing's Blog
Loelle's TVB Fan's Blog
嘉穎天下










6. Counter
online
7. Music
8. Credits

Thursday, 6 December 2007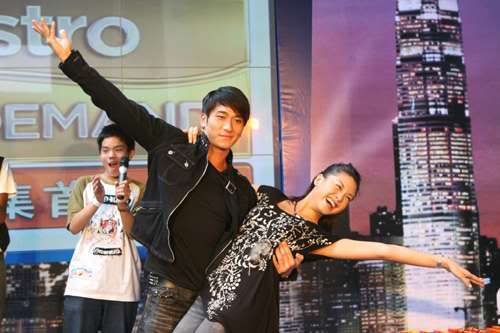 Ron Ng & Bernice Liu Greet Fans in Malaysia
Ron Ng Cheuk Hei and Bernice Liu went to Kuala Lumpur, Malaysia to meet with their fans. Upon spotting the pair, fans cried their names ecstatically. Fans also carried posters with their idols' names as well. Ron and Bernice were moved by their fans' enthusiasm.Since Ron has a background in dancing and Bernice's performance in "Steps" 《舞動全城》was highly popular, the games centered around dancing. The fans won numerous prizes as well.The high point occurred when Ron and Bernice danced together. Their fast tempo and compatible dance moves resulted in many loud cheers. Ron and Bernice took the time out to try out famous local dishes in Kuala Lumpur as well.
Source: Takungpao
Credit:
Jayne
Thursday, December 06, 2007