1. Lost?

This is just a blog about Ron Ng, a part of www.ronforever.com
2. Ronforever
Ronforever Forum
Includes: Pictures, Downloads, News, Schedules, Polls and much more =D
3. Tagboard
4. Links
TVB Girl
Kelly Chen Cafe
TVB TODAY
TVB wonderful series
K for TVB
Jaynestars
Sizziling Hot- Joanne
Qing's Blog
Loelle's TVB Fan's Blog
嘉穎天下










6. Counter
online
7. Music
8. Credits

Sunday, 6 January 2008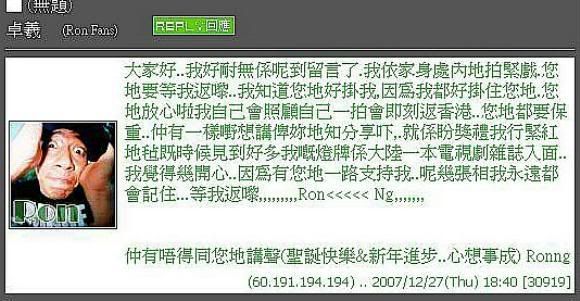 Hi everyone, I have left a message in ages. At the moment I am filming a movie, but you guys have to wait for me to return to Hong Kong. I know you guys really miss me because I really miss all of you as well.
But don't worry, I will take care of myself and once I finish filming I will return back to Hong Kong. You guys must take care. There is also something I really want to share with you guys. In Mainland all the magazines have me on it about me filming this new movie. I feel very special and happy because you guys have supported me all the way. Those pictures on the magazines I will always remember. Wait for me to come back!
Merry Christmas and a Happy new year. And wish you every sucess.
Ron <<
Image credit: ronng.com
Translator: Sammy
Sunday, January 06, 2008