1. Lost?

This is just a blog about Ron Ng, a part of www.ronforever.com
2. Ronforever
Ronforever Forum
Includes: Pictures, Downloads, News, Schedules, Polls and much more =D
3. Tagboard
4. Links
TVB Girl
Kelly Chen Cafe
TVB TODAY
TVB wonderful series
K for TVB
Jaynestars
Sizziling Hot- Joanne
Qing's Blog
Loelle's TVB Fan's Blog
嘉穎天下










6. Counter
online
7. Music
8. Credits

Friday, 15 February 2008
Translated by Sammy@http://ronforever.com
Credit: Sina.com
Date: Thursday 14th Febuary
Life and Death crew Yao Qian Yu and Ron Ng this year couldn't stop filming even if it was Valentine's day, and even had to film till really late so they had a Valentine's Day dinner, watched movies afterwards. They were experiencing very cold weather so they each had a warm sweat potato which they really enjoyed (I think its sweet potato).
Yao Qian Yu hardly goes shopping, and even spends less time going to the movies. Usually Valentine's Day for her is not sitting at home watching a movie but instead going on holidays. Playful Ron really enjoys playing computer games, but if he doesn't play his games he will ask his friends out for a gathering.
Another version of "Mr and Mrs Smith" has been made into a Chinese production called "Life and Death". It is set about 40 years ago which has a great story line. The story line is mainly based on two lovers who experience fake relationships and come across many complications. This is a 2008 production which cannot be missed. Crew from well known series including "Girls Don't cry" and "Keep laughing" you must wait for this great series to air. "Life and death" has a lot of deep feelings "心血" and not only does it have plots that link on from one another, it also has a is filled with happiness and love.

After Valentine's Day Life and Death crew will head off to China to finish filming the last of their scenes. Stars Ron Ng, Yao Qian Yu, Sarina, and Wen Zhong Ren, will all be there.

Caption: Ron Ng & Yao Qian Yu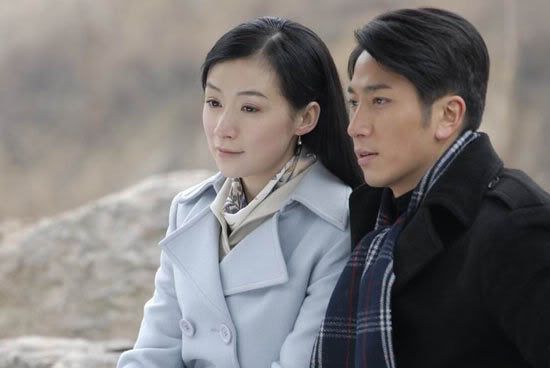 Friday, February 15, 2008