1. Lost?

This is just a blog about Ron Ng, a part of www.ronforever.com
2. Ronforever
Ronforever Forum
Includes: Pictures, Downloads, News, Schedules, Polls and much more =D
3. Tagboard
4. Links
TVB Girl
Kelly Chen Cafe
TVB TODAY
TVB wonderful series
K for TVB
Jaynestars
Sizziling Hot- Joanne
Qing's Blog
Loelle's TVB Fan's Blog
嘉穎天下










6. Counter
online
7. Music
8. Credits

Sunday, 20 July 2008
Ron Ng Sells his Soccer Jersey - July 19, 2008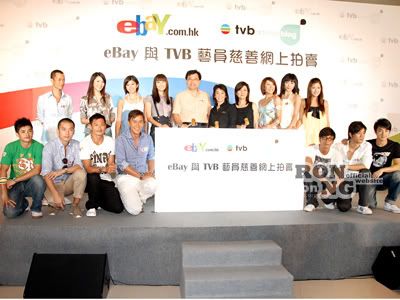 Recently TVB and Ebay have been working together to promote sales with TVB artists such as Ron Ng, Joel Chan, Miriam Yeung, Fala Chan and Tavia Yeung. Yesterday all of them attended the "Ebay and TVB sales online" function bringing some of their things to sell. Ron brought his Soccer Jersey which he hasnt worn before. He expressed that he really liked soccer and Tavia teased him as the "Ball Lover" which made Ron laugh.
Source: Oriental Daily
Sunday, July 20, 2008